Jellyfish Barge, la serra gallegginate
AUTHORS: Pnat. (Project: Antonio Girardi, Cristiana Favretto. Cultivation system: Elisa Masi, Elisa Azzarello, Camilla Pandolfi. Coordination: Stefano Mancuso)
Year: 2014-present
Location: Nomadic
---
Jellyfish Barge is the floating modular greenhouse for urban agriculture that generates its own fresh water and energy, using only solar power. It is an affordable, transportable and replicable solution to grow food within the cities. The strength of its design lies in the concept of combining a food production facility with a vital public space, providing both areas for economic activities and for social interaction. Its multifunctional attitude allows citizens to enjoy a weekly marketplace, allows farmers who manage the structure to rely on a profitable business, and creates resilience and social innovation for the community. All these values augment the attraction, relevance and value of the installation area, thus acting as the engine of regeneration at a larger scale.

How does it work
A typical installation is composed by 4 greenhouse modules and one zip connection module. The connection module is the common space where developing a weekly market, didactic or leisure activities such as solarium, tai chi or whatever people and associations want to do. The greenhouse can be used as an intensive production facility, as the extension of bars and restaurants proposing local vegetables in their menu, or as a community garden. At last people can watch vegetable growing and experience agriculture in their daily life.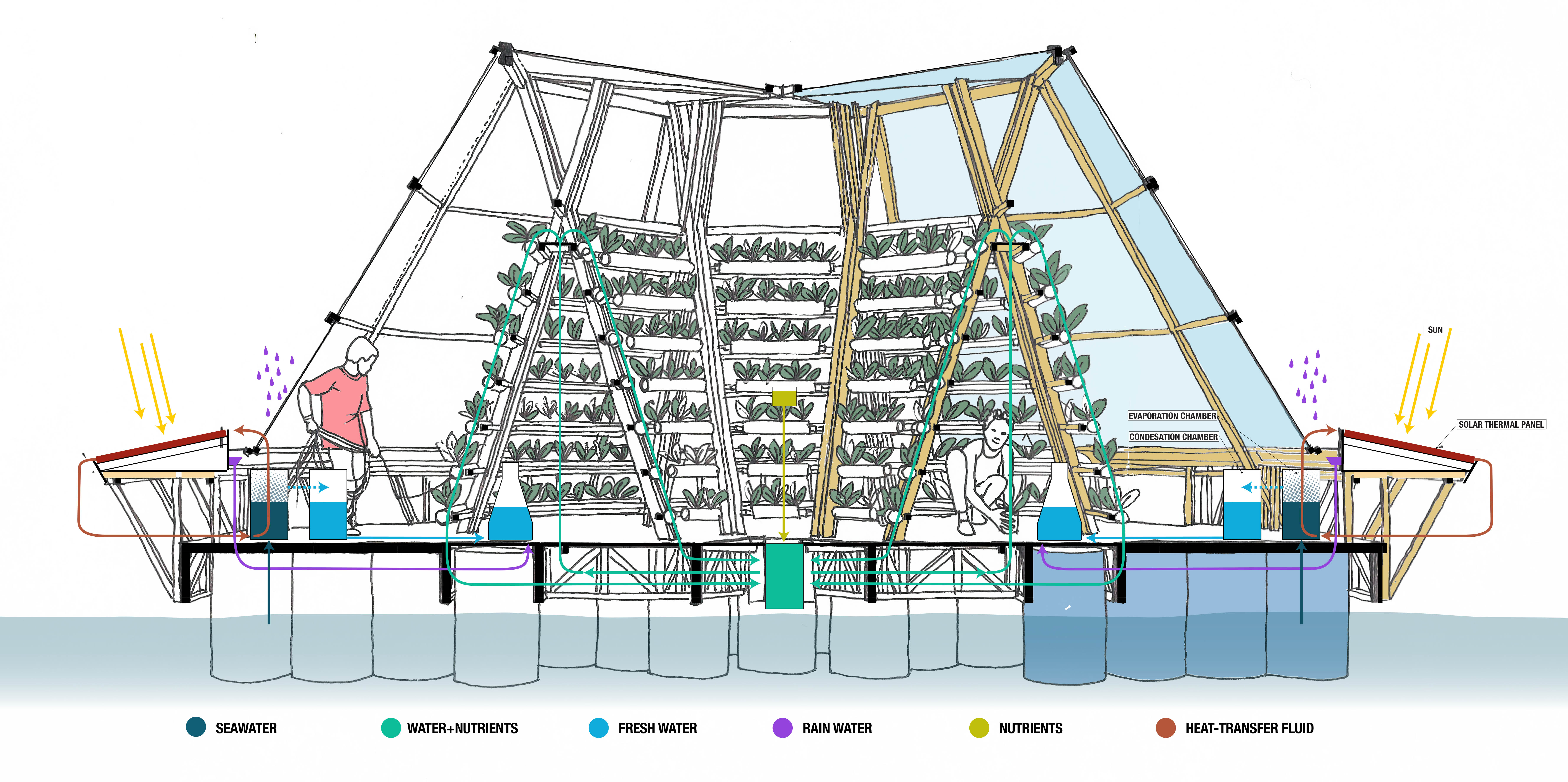 Inventors
Jellyfish Barge was conceived and designed by Antonio Girardi and Cristiana Favretto and has been developed by Pnat, which is a company spin-off of the University of Florence. The project was coordinated by the plant scientist Stefano Mancuso and the cultivation system was developed by the botanists and agronomists Camilla Pandolfi, Elisa Masi and Elisa Azzarello.
Awards
Jellyfish Barge was selected to be exposed within the Italian Pavillion at the 15th Venice Architecture Biennale. It was was included among the finalists of the prestigious international design prize Compasso d'Oro. A prototype of Jellyfish Barge was exposed in the Darsena of Milan as an official event of Milan Expo 2015. Jellyfish Barge was awarded with many prizes including "Sustainable Technologies and Cooperation in Food and Agriculture" by United Nations, "Nuovi Talenti Imprenditoriali" by the Italian Agriculture and Forestry Ministry and it was awarded with a grant by the European Commission within the program Horizon 2020.